It's MS. Kitty, if you please, and I'm a proud felinist, but I don't need to knit a pussy hat—it's my lived experience. I'd much rather knit on your chest. Even though I'm a young mama, I'm still a frisky feline who used to enjoy engaging in child's play with my son Chester until he found his furever family. Now it's my turn, so I hope you'll weave me into your life.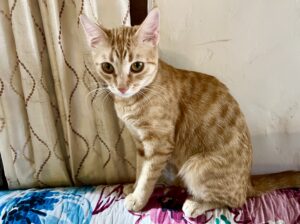 STATS FOR: MS. KITTY
Age: Kitten (under 1 year)
Gender: Female
Primary Breed: Tabby
Coat Length: Short
Color: Orange / Red
Expected Weight: Medium (7-11 lbs.)
Health: Spayed, vaccinations up to date
Behavior: Good with other cats

If you want to welcome me into my forever home, please fill out a quick and easy form to let me know about you by clicking here.
The Animal Rescue Alliance can save as many animals as we have loving foster homes for, so please consider becoming a foster. For more info, contact us.