I was adopted by a great family with chickens, dogs and other cats and my very own little boy.  My best friend Fabio….who thinks he's so handsome…I'm more handsome…came with me.  Except for Fabio's vanity about his long hair, I am in a perfect home!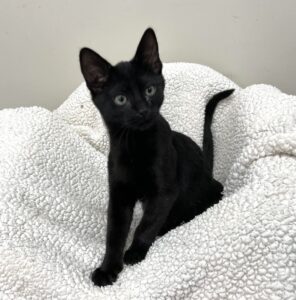 STATS FOR: DECLAN
Age: Kitten (under 1 year)
Gender: Male
Primary Breed: Domestic Shorthair
Coat Length: Short
Color: Black
Expected Weight: Medium (7-11 lbs.)
Health: Neutered, vaccinations up to date
Behavior: Good with other cats
If you want to welcome me into my forever home, please fill out a quick and easy form to let me know about you by clicking here.
The Animal Rescue Alliance can save as many animals as we have loving foster homes for, so please consider becoming a foster. For more info, contact us.