My name is Gracie. I am a young, unmarried mom who was put out in the street when I became pregnant. The nice people at The Animal Rescue Alliance took me in and let me have my babies in a nice, warm, comfortable room and then we found good homes for all of them. Now it's time for me to find a forever home. I am well behaved, not shy, and play like a kitten. I have a great sense of humor and love to be petted. I don't ask for much more than good food and all of your affection.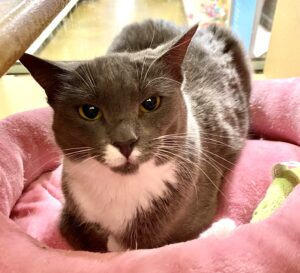 STATS FOR: GRACIE
Age: Young
Gender: Female
Primary Breed: Russian Blue
Coat Length: Short
Color: Gray/Silver/White
Expected Weight: Medium (7-11 lbs.)
Health: Spayed, vaccinations up to date
Behavior: Good with other cats
If you want to welcome me into my forever home, please fill out a quick and easy form to let me know about you by clicking here.
The Animal Rescue Alliance can save as many animals as we have loving foster homes for, so please consider becoming a foster. For more info, contact us.