I was lucky enough to be adopted out with a good friend of mine, Asher.  It doesn't hurt that he is SO HANDSOME!!!  And he loves to cuddle so life is as good as it gets.  I started out in a cold pile of leaves beside a house with a mom who disappeared.  But look at me now!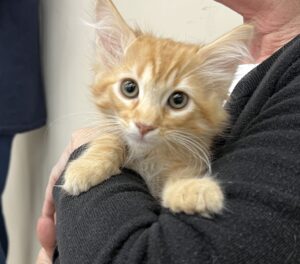 STATS FOR: HONEY
Age: Kitten (under 1 year)
Gender: Female
Primary Breed: Tabby
Coat Length: Short
Color: Orange & White
Expected Weight: Medium (7-11 lbs.)
Health: Spayed, vaccinations up to date
Behavior: Good with other cats
The Animal Rescue Alliance can save as many animals as we have loving foster homes for, so please consider becoming a foster. For more info, contact us.