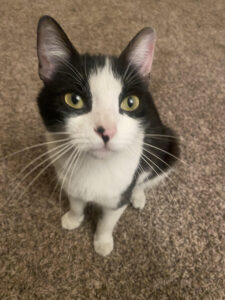 Pebbles needs to find a new "furever" home quickly, because her loving owner is facing eviction from his apartment if he can't rehome her (what is this, the Stone Age?). Due to unfortunate circumstances, Pebbles' owner could only find an apartment that doesn't allow animals, so he kept her presence a secret in his man cave. That is, until one night when Pebbles slipped out for a little "Bamm-Bamm," getting knocked up AND seen by her Neanderthal landlord!
Now Pebbles and her growing family need a place to lie low until her babies are born and can be adopted out. We're looking for an evolved foster and/or adopter to take in this sweet girl, so who's ready be her bedrock?
If you want to welcome Pebbles & Co. into your forever home, please fill out a quick and easy form to let us know about you by clicking here.
The Animal Rescue Alliance can save as many animals as we have loving foster homes for, so please consider becoming a foster. For more info, contact us.