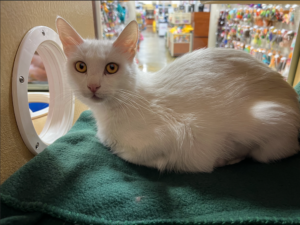 I'm a Turkish angora, and with my white fur and exotic amber eyes, I'm every bit the angel my name suggests. In my innocence, I believed a boy in my neighborhood who made promises that he didn't keep. As an unwed mother, my parents kicked me out on the street, where I was forced to have my babies in a deserted shed.
A neighbor heard me crying and took us in, but after all of my babies were adopted, I found myself back on the street. Now it's MY turn.
I aspire to a career in the law and do not intend to have more children, because one set of babies is enough (I'm not a breeder, you know!). In order to fulfill my dreams, I need a great home with stable parents. Is that you?
If you want to welcome me into my forever home, please fill out a quick and easy form to let me know about you by clicking here.
The Animal Rescue Alliance can save as many animals as we have loving foster homes for, so please consider becoming a foster. For more info, contact us.