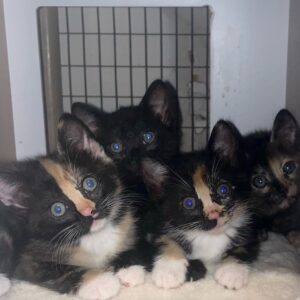 Team Tortie needs a foster, stat! Who can resist these cuties? We're looking for a hero to offer them a home until they're old enough to be adopted out.
UPDATE: The babes of Team Tortie are ready for adoption! If you're interested in welcoming (left-to-right) MaryKate, Webb, Ashley, Barbie, or the entire Team into their forever home, please fill out a quick and easy form to let us know about you by clicking here.
The Animal Rescue Alliance can save as many animals as we have loving foster homes for, so please consider becoming a foster. For more info, contact us.