Oh Em Gee! I am one of a gang of Generation G/J juveniles that is growing up fast. My Mama Jane gushes that me and my sisters Gigi and Jess are a genuine joy, but it's time for us to graduate and go out in the world to find our furever families. We all need a new place to nest, so will you make me your permanent guest?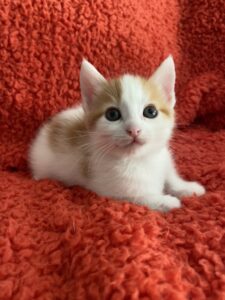 STATS FOR: GEMMA
Age: Kitten (under 1 year)
Gender: Female
Primary Breed: Tabby
Coat Length: Short
Color: Orange & White
Expected Weight: Medium (7-11 lbs.)
Health: Spayed, vaccinations up to date
Behavior: Good with other cats

If you want to welcome one or more of us into our forever home, please fill out a quick and easy form to let us know about you by clicking here.
The Animal Rescue Alliance can save as many animals as we have loving foster homes for, so please consider becoming a foster. For more info, contact us.