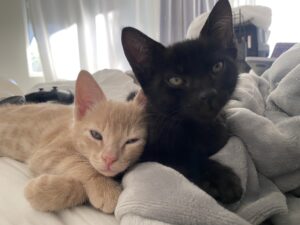 We're a bonded black and orange pair who are coming on the scene just in time for Halloween!
Shadow: "My pal Pumpkin is a gourd-geous tabby whose inner light illuminates his sweet-and-spicy personality."
Pumpkin: "High-spirited Shadow is a shady lady who sticks to me as closely as her name suggests."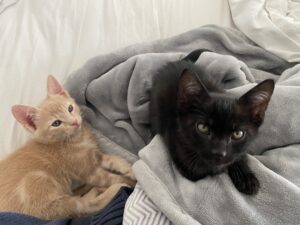 We love kids, play ALL the time, and like to sleep on top of each other.
While living in the local hills, our feral mom was smart enough to dodge coyotes and other things that go bump in the night, so we kittens come from clever stock. If you're equally smart enough to take us together, we'll treat you all year long—no tricks!
If you want to welcome us into our forever home, please fill out a quick and easy form to let us know about you by clicking here.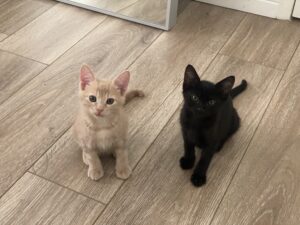 The Animal Rescue Alliance can save as many animals as we have loving foster homes for, so please consider becoming a foster. For more info, contact us.