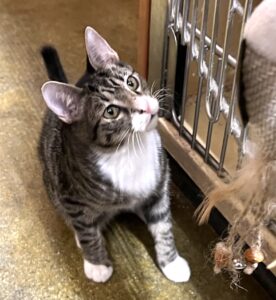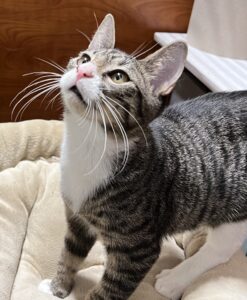 I'm looking for my human mate, but without time-travel, it'll have to wait. I still have some maturing to do, though my ample charms will beguile you. I love to tease and clown around, but regarding you, I'm forever bound. If you welcome me into your clan, I'll be your fierce and loyal man, so look for me to be ready soon, and when we're joined, I'll be over the moon. 🌕
Munro is super sweet and friendly, but he is only four months old and needs to grow some more before he can have his full medical work-up. He is currently at PetSmart in Northridge and is looking for a foster or furever home.
If you think that's with you, please fill out a quick and easy form to let us know about you by clicking here.

UPDATE: Munro has been adopted! Here he is in his new forever home: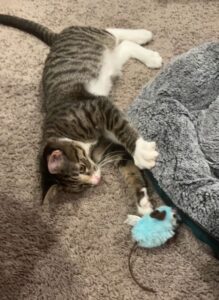 The Animal Rescue Alliance can save as many animals as we have loving foster homes for, so please consider becoming a foster. For more info, contact us.