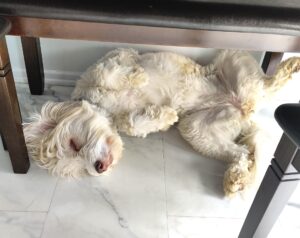 My name is Abbie and I'm a young Goldendoodle who LOVES to play—so much so that I often get up early, because I can't contain my excitement! Ironically, my former owners said they were having trouble keeping up because I was keeping them up, so they asked The Animal Rescue Alliance to help find me a new home.
Now I'm living with a loving family that appreciates my youthful antics and enthusiasm for life, because who could be crabby with a dog like Abbie? TARA prides itself on finding the perfect fit between animals and adopters so that a forever home really means forever, and my new family was tailor-made for me.

To help The Animal Rescue Alliance find "furever" homes for more animals like Abbie,
please consider making a one-time or recurring donation.