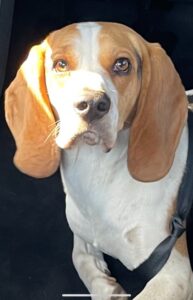 Bagel is a 3-year-old beagle tripod that weighs about 35 lbs. There was an alert put out in April from the San Fernando Valley Lost and Found website about a beagle running in the streets in the East Valley area and asking for anyone to try and help catch him. One of the Adopt Me Rescue volunteers saw the alert and helped a group of people capture him. The volunteer took him to the East Valley Shelter where nobody claimed him, so Adopt Me Rescue took him into their group and he is in a home with his foster dad.
"My next-door neighbor's little kid could not pronounce beagle, so the name Bagel stuck. I found him running up and down around Woodman and Nordhoff. He had a deformed front leg from a birth defect and we spent $1200 having it amputated. He never used it, it was in the way. It hasn't stopped him from running around like a crazy little puppy."
Bagel is a happy-go-lucky fellow with a fun personality and he gets along great with other dogs. He doesn't let the fact that he has three legs slow him down at all. He loves to run full-speed with quick turns while chasing his foster buddies at the house. He wrestles and jumps just like a normal dog. He loves stuffed toys and likes to toss them in the air, enjoys playing tug-of-war and fetch, and also loves to sunbathe!
He's very affectionate and extremely happy to greet you with his howling bark while hopping to hug you when you come home. He bonds very quickly and loves everyone he meets, children or adults. After a long day of playing with his foster buddies, he likes to find a quiet, dark place to go to sleep, sometimes climbing under a blanket.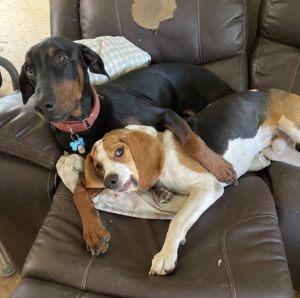 While people in his foster household are doing other activities, Bagel prefers to stay away from the ruckus of the family and sleep, especially on his back. He would be best suited in a home with a yard and another playful dog, as he is very active. No apartment living for this guy! He is up-to-date on vaccines, neutered, and microchipped.
If you are interested in Bagel, please complete the application on the Adopt Me Rescue website (www.adoptmerescue.org) or contact them for more information.
LOCAL AREA ADOPTION ONLY