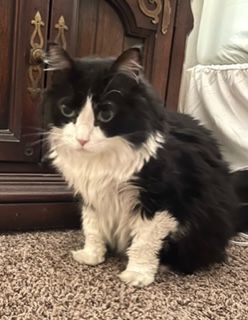 Poor Charlie is a sweet twelve year old senior who lost his human mom.  Poor Charlie is absolutely devastated. He has been with her since he was a small kitten. Cats grieve loss in the same way people do, and can begin to shut down, stop eating, and fade, when a beloved human passes. We are looking for a loving foster family or forever home for Charlie. We are looking for kind hearted people who can help Charlie through this difficult time in his life. 
GREAT UPDATE: Charlie found a home in the same neighborhood and he's doing great. 
Momma cat gave us a little scare last night as she seemed unwell. Gave her some extra antibiotics and fluids. She is much better this morning. If she continues to improve she will be available for adoption to a nice family soon.