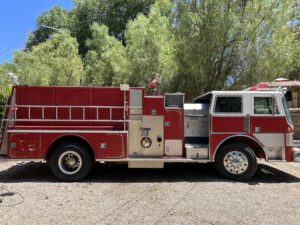 Unfortunately, wildfires are a part of life in Southern California, and with the ongoing drought, conditions are more dangerous than ever. Rancho Providencia occupies a corner of the San Fernando Valley that's covered in ancient oaks and scrub brush—foliage that can provide fuel for wind-driven flames.
In September of 2005, the Topanga Fire swept through Chatsworth, threatening animals and structures on the ranch. It came so close that some posts in the stables were burning, but we managed to get all the animals to safety. Since then, we've put systems in place to evacuate the ranch in a rapid and regulated manner.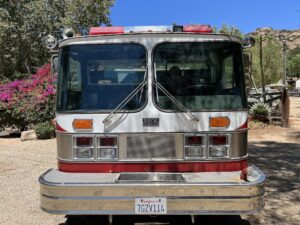 For additional assistance, we have two 2,000-gallon water tanks on the property to help fight flames in the event of another fire, but when Kelly saw an advertisement listing a fire truck for sale at a great price, she snapped it up. Unlike the tanks, the truck can be easily moved around the ranch to where it's most needed.
While evacuating people and animals is our #1 priority in an emergency, firefighters are stretched thin during wildfire season and may not be able to marshal all their resources to the ranch. When possible, we believe in staying and defending in place, and this engine will help energize our efforts.
.
To assist us in supporting and protecting the animals at Rancho Providencia,
please consider making a one-time or recurring donation.