PERMANENT RESIDENT STATUS
.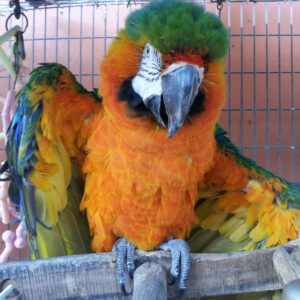 Gentleman Jack comes from money and was a member of the California upper class before relocating to Rancho Providencia. He'd been living on a huge estate in the mountains of Malibu, but his owners were confused about how to care for a macaw. He was left in a cage outside year-round, which they believed was natural for a bird, but Jack is native to the Amazon. Despite spectacular views of the sea from his hilltop home, the winter winds were brutal for a boy from the tropics.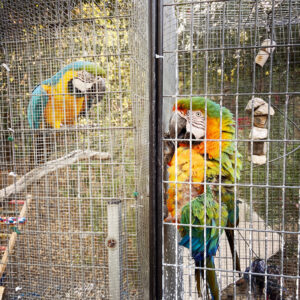 Jack's cage was set far away from the main house and he never saw anyone except the groundskeeper. Kelly had filmed on this property, and when she sized up the situation, she convinced Jack's owners to sell him to her. This well-bred bird cost a wing and a claw, but it was worth it to give him a warm welcome at the ranch.
.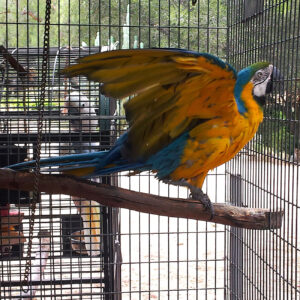 Goldie the Great, by contrast, had lived in Hawaii before coming to Rancho Providencia. He belonged to an exotic dancer in Honolulu who understood tropical birds and trained him to run around the stage and pick up $20 bills. When she got older, dancing was no longer as lucrative, so she moved back to the mainland, where she and Goldie lived in an apartment in Las Vegas. Unfortunately, as with Phoebe the cockatoo, Goldie the macaw made too much noise, so his owner asked Kelly to take him.
.
While Gentleman Jack has always been a bit crazy and untamable, having had little interaction with anyone prior to coming to the ranch, he and Goldie bonded and have become "Great" friends. They currently occupy adjacent enclosures, but we hope to purchase a 10×10' cage soon so that they can be together.
If you'd like to help us support and protect magnificent animals like these,
please consider making a one-time or recurring donation to The Animal Rescue Alliance.