PERMANENT RESIDENT STATUS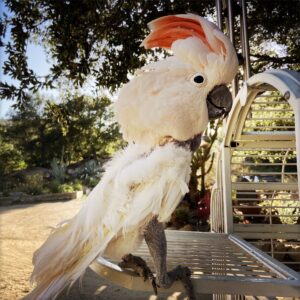 Many years ago, when TARA was just a twinkle in her eye, Kelly was asked to go undercover to assess a bird breeding facility. The breeder had 100 birds in cages and claimed they were all wild, but Kelly had some experience with birds and knew that a number of these had been pets.
As she walked among the rows of cages, a cockatoo came forward and put her claw through the bars toward Kelly. Despite being warned by the breeder not to touch the birds, Kelly stroked the cockatoo's head, which nuzzled her hand affectionately. Kelly then opened the cage—she does what she wants!—to more thoroughly inspect the bird, and the breeder finally admitted that this cockatoo had been someone's pet.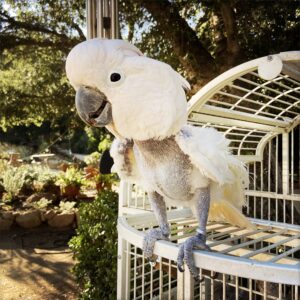 A couple had kept Phoebe in an apartment, where she was loud and disruptive. They didn't understand cockatoos well, but knew that birds don't sing at night, so they put Phoebe in a dark room with a blanket over her cage to keep her quiet. Out of stress and boredom, she began to pull out her feathers until they no longer grew back. Eventually, she ended up at the breeding facility, where she became one of Kelly's first rescues.
From her large cage on our property, Phoebe will happily chat up anyone and everyone, including herself. She's a stand-up comedian who loves to tell jokes and will perform for an audience of one if nobody else is around. She laughs at her own jokes and will do six sets in a row when she's on a roll.
Cockatoos can live to be 70 years old, so this babbling bird will probably outlive Kelly, who made arrangements for Phoebe in her will. If you visit Rancho Providencia, be sure to stop by her cage for some conversation, because Phoebe will spill ALL the tea about RP.
If you'd like to help us rescue more animals like our comedic cockatoo,
please consider making a one-time or recurring donation.