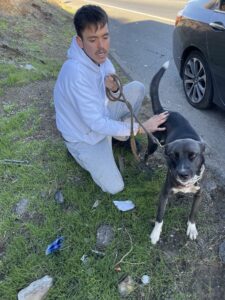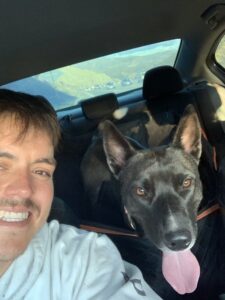 Early on a recent dark and rainy December morning, Luna was riding in the car with her parents when they got in an accident on the 118 freeway near Rocky Peak. Scared and confused, she fled from the car when they opened the door and quickly disappeared into the surrounding brush.
After searching for her without success, Luna's parents frantically called a few regional rescues for assistance, but Kelly—who likes to say that TARA is the only rescue west of the Rockies that still answers the phone—was the one to take their call. She immediately posted about the situation on various local platforms, including San Fernando Valley Lost Pets and Nextdoor.
A woman whose boyfriend works in search and rescue saw one of these posts and sent him out to look for Luna. A couple of hikers hit the trails near the freeway to see if they could spot her. Kelly called a man who went around putting up flyers. Even the CHP got involved! A nice dispatcher suggested to Kelly that we get a drone with thermal imaging [adds it to the list].
This heartwarming community effort helped to counter the chill of fear and worry, but Luna remained elusive…until her parents returned to the scene of the accident and she suddenly came bounding down an embankment towards them. It turns out she'd been hiding in the bushes 50 feet away the entire time!
After a long day, Luna was back home, safe and sound with her family, whose gratitude for the generous support of this community is as big and bright as the full moon.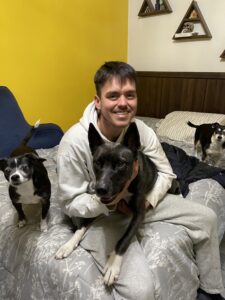 To help us rescue more lost pets like Luna,
please consider making a one-time or recurring donation.