PERMANENT RESIDENT STATUS
The TARA Posse is in "stable" condition at Rancho Providencia, where they enjoy a carefree life as regular ranch residents. The members of the posse include:
.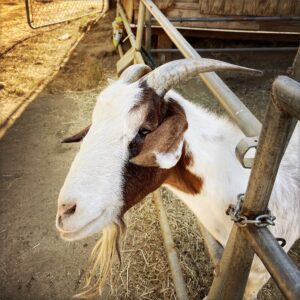 BOY GOAT
Like many other animals in the late aughts, Boy Goat came to Rancho Providencia with his mamaaa and siblings when a number of family farms in the Lancaster/Palmdale area went under during the subprime mortgage crisis. In the intervening years, his mother, sister, and two brothers have passed away, leaving Boy Goat as the last surviving member of his family. Too stubborn to succumb just yet, he's earned his ornery attitude and takes pride in being one grumpy goat.
.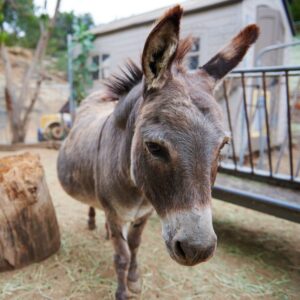 BUBBLES
Bubbles is a rare miniature donkey who was rescued from a breeding program in central California. Unscrupulous breeders use females like Bubbles to produce progeny for people who want exotic animals, then send them to slaughter when they've been bred out. This would have been Bubbles' fate if TARA had not heard about her plight and made arrangements to bring her to the ranch. Here, she's become best frenemies with Lady—because donkeys can be divas, too—but she also stepped up to support September when his friend Fabio passed away, proving that familiarity breeds contentment.

.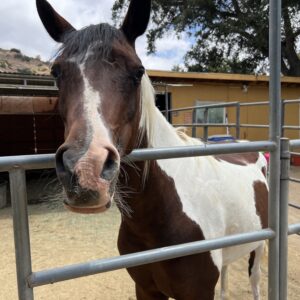 INDIA
India is a pinto horse who arrived at the ranch in 2010 during the mortgage meltdown. She'd been living on a property in Palmdale when her owners lost their small farm. She came to us with a very old horse named Shadow, who was blind in one eye and had tumors on his ears. They lived together at the ranch for a year before Shadow passed, and it took India a while to get over it. Now she competes with her stablemate Lady in the adjacent stall for princess status.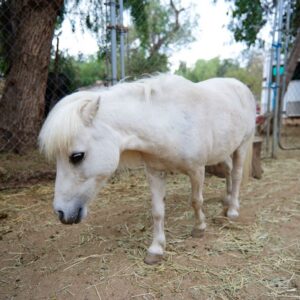 LADY
This miniature pony has maximum attitude. Since Lady came to Rancho Providencia a decade ago, she has become quite the diva, displaying a spicy spirit and dialing up the drama with her posse peers by bullying Boy Goat and Bubbles the donkey.
We rescued her from a difficult hoarding situation in Chatsworth, where the animals were severely malnourished, so this little Lady loves to eat. We have to watch her weight, but our pony prima donna usually gets what she wants.
.
.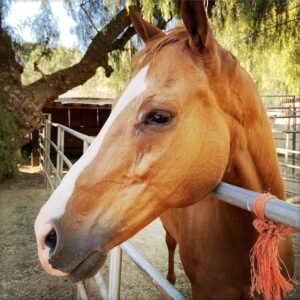 SEPTEMBER
A thoroughbred with a burnished chestnut coat, long legs, and a tall, muscular frame, September was destined to be a racehorse until it was discovered that he had had a congenital bone defect in his front left hoof, similar to a club foot. He was sent to a slaughterhouse, where he was rescued and is now enjoying retirement as a permanent resident of the ranch.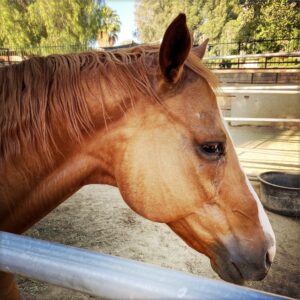 Because of his bad leg, September can't be ridden and must occasionally wear an orthopedic boot. We turn him out regularly in the arena for light exercise, but don't work him too hard. He's a companion horse who likes to hang out with his equine equals, but after losing his best friend Fabio, an older rodeo horse, his new bestie is Bubbles the donkey.
With tender loving care, September will be with us through the autumn of his life.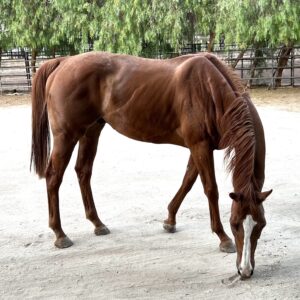 To help us rescue more animals like our Posse pals,
please consider making a one-time or recurring donation.